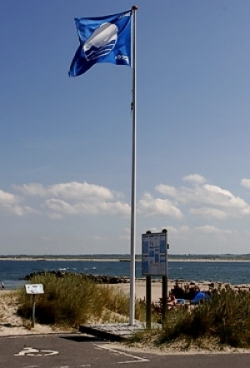 A blue flag beach means that an extraordinary effort has been made to secure the environment, the safety, the facilities and the informayion about the beach. These efforts are made to protect the environment of the sea and the coast and make sure that the quality meets the expectations of guests and tourists.
Therefore we are proud to present the Blue Flag on the beach again this year in Thyborøn. The flag can be seen right next to the house.
The characteristics of a besch with a Blue Flag :
Clean and checked regularly.
Clean water and you will find information about the current quality of the water.
The Blue Flag is removed at once if the water is polluted.
Clean wash rooms and well-maintained buildings.
Waste disposals in function.
Has equipment for life-saving, materials for emergency treatment and emergnecy telephone close by. In some Blue Flag beaches you also have lifeguards.
The municipality offers activities connected to the enviroment and the nature of the area and informs about protected and fragile enviroment.
All these things contribute to making the beach a pleasant and secure place to be.